Most home inspections happen as part of the home buying process.
But once you've made that significant investment, your home continues to age and deteriorate. Our Texas weather – the hail, heat, and wind – takes its toll on your home. Wood destroying insects are common in our area. And the clay soil many homes are built on lends itself to shrinking and swelling, often leading to costly foundation problems.
Why Should I Have an Annual Home Inspection?
An annual home maintenance review by SPI is a good investment, helping you be proactive instead of reactive when it comes to home repairs, some of which may be serious and end up costing you more than they should.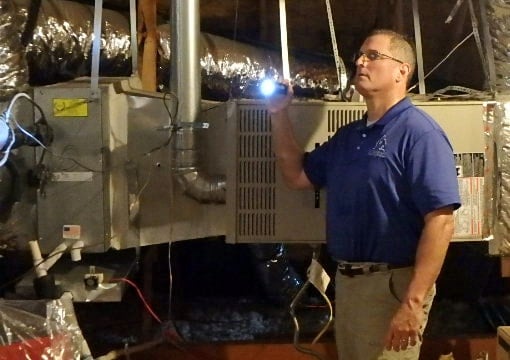 Recently, we found – quite by accident – that the hot water heater in our garage had been leaking, probably for awhile. Unfortunately, not only did we have to get the hot water heater replaced, but we had to have construction work done to repair the platform and the closet due to water damage. It ended up costing us almost $2,000 when all was said and done. Had we had our home inspected on a regular basis, our inspector would've noted that we should've had a metal pan and drain to the outside. That would have most likely eliminated the need for construction work. We will be having a home maintenance inspection in the near future!
– Mary G.
If you've lived in your home for a few years or more, having a home maintenance review will:
Help you clearly see where your home may be deteriorating, so small defects don't escalate into big ones. If you have wood destroying insects, the earlier you catch it, the easier and less expensive it will be to have any damage repaired. Knowing your foundation is shifting can help you take measures to address the problems before they cause significant structural damage. Your licensed home inspector can help you stay one step ahead of these types of destructive defects.
Give you visibility into areas of your home that you don't look at every day or can't easily access. When was the last time you went in your attic or checked out your roof for hail or wind damage? A licensed home inspector will give your home a thorough examination; identifying defects, recommending repairs, and helping you keep your home in good condition.
Let you know when your home may be in violation of a code requirement. It's a good idea to make sure all areas of your home meet code, particularly if you plan to sell your home at some point. And because codes change, some elements that met codes at your last inspection may now violate them. A regular home maintenance inspection will give you the information you need to understand and address these changes.
Highlight safety defects you need to address. Do you have adequate protective barriers around your swimming pool? Are your stairways stable and secure? Is your porch railing in good shape? These types of defects are accidents waiting to happen. A regular inspection gives you the knowledge you need to keep your family safe from unnecessary harm.
Help you be a good neighbor. Are your clogged gutters or lack of proper drainage causing water to pool between your home and your next-door neighbor's? Are your aging shutters an unsightly nuisance to those living nearby? A home maintenance review by SPI will identify these types of defects, so you can be a good member of your community.
Bottom line, an annual home maintenance inspection gives you the knowledge you need to protect the significant investment you've made in your home.
About Our Annual Home Maintenance Inspection Services
Our home maintenance inspections are as thorough as our buyer's and seller's inspections, going well beyond the rigorous standards set by the Texas Real Estate Commission. They come with the same level of detail and thoroughness. And the report – which is usually delivered the same day – will give you a clear, unbiased understanding of your home's current condition. It will describe any defects we uncover and recommend repairs and enhancements. It will also contain home maintenance recommendations, so you can stay on top of the often laborious tasks that come with home ownership.
Here's what one client said about his recent buyer's home inspection:
We just had Keith do an inspection of a property we had under contract this week. Most importantly, he was extremely organized, thorough, and more than willing to answer any questions we had. He records every comment he makes on a property and reviews them with you in detail. His written report likewise is outstanding, and is supported with pictures he took of the property and other helpful information.  We also asked if he could come back and inspect the pool on short notice, and he had no problem moving things around to fit us into his schedule. We absolutely recommend!
– Jonathan R.
We'll answer your questions, provide additional insight, and help you understand our recommendations. In the end, you'll have the information you need to "fix what needs fixing", most likely saving you money at the same time.
Annual Home Inspection Checklist
Keith Boggs of Stonebriar Property Inspections would be happy to provide you with a home inspection checklist. Contact us today and ask us for a copy of our checklist.
If you haven't had a home inspection since you bought your house, you're long overdue for one. It's worth the small investment of time and money to have the knowledge an inspection will provide.
Since 2007, Keith Boggs of Stonebriar Property Inspections has been helping his loyal clients buy and sell homes with confidence. With more than 25 years working in the construction industry, Keith offers thorough, accurate, home inspection services of the highest quality in the greater DFW area, with both a Dallas Home Inspection office and a Frisco Home Inspection office.
Contact Keith Boggs of Stonebriar Property Inspections at (214) 923-7304 or [email protected]
Appointments available 7 days a week, including evenings and weekends