About Our Home Inspections
Stonebriar Property Inspections will inspect your home as if we were the buyer or seller.
Keith Boggs and Stonebriar Property Inspections offers the most thorough home inspection available in the greater Dallas/Fort Worth metroplex area. We inspect much more than the elements required by the Texas Real Estate Commission's standards. Our inspections include 80 to 100 color digital images, so you can see what we see and understand the condition of your home clearly. We also have the latest technologies, including thermal imaging equipment, to make sure we see everything we need to see – even defects that may not be visible to the human eye.
During the home inspection, we will inspect the following components of your home, looking for structural soundness, proper function, and failure to meet any code requirements:
Foundation, grading, and drainage
Guttering
Roof covering materials and structures
Attics
Walls, ceilings, and floors
Doors, windows, and stairways
Chimneys and fireplaces
Porches, balconies, patios, and decks
Carports, garages, and garage door openers
Driveways and walkways
Electrical systems, panels, outlets, and fixtures
Heating, cooling, and ventilation systems
Plumbing systems and plumbing fixtures
Gas lines and meters
Major built-in appliances
Outdoor sprinkler systems
Outdoor kitchens
And many more components are included in the home inspection…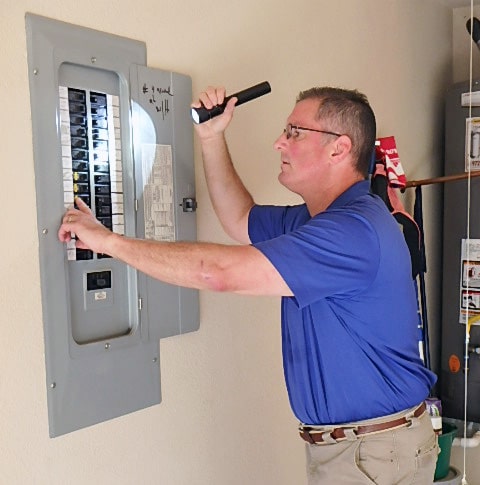 In most circumstances, we will deliver your inspection report to you the day of the inspection. And we pride ourselves on the high quality of our reports. You'll get a detailed, thorough explanation of your home's condition accompanied by high-resolution digital images to support your understanding. Averaging about 70 pages in length, our report will outline:
The elements of your home that we've inspected
What we've found – current condition and defects
Recommendations on how you can make repairs
Extensive color images
Information on how you can maintain your home moving forward
Keith Boggs will walk you through the inspection report, answering your questions and helping you understand his findings. Our goal is to provide you with the confidence you need to buy or sell your home with peace of mind.
Here's what one of our clients had to say after her home inspection:
Keith Boggs was very professional and thorough with the inspection. He had a very detailed inspection report. He also went through all the findings with me one by one. My husband had some questions later, and he was able to reach him and get answers. Overall we are very pleased with Keith's service. We highly recommend him!
– Pearl C.
Whether you're buying a new home or selling the one you've lived in for years, we are here to help you make sound decisions. We offer the most comprehensive home inspections for buyers, sellers, and homeowners.