Considering a move to Richardson, TX?
Stop here with Stonebriar Property Inspections for your Richardson, Texas home inspection. A family-owned business with more than 25 years of experience, Stonebriar is a business that has built its reputation on individualized attention to the client; extreme attention to detail, which results in an accurate inspection; and complete peace of mind.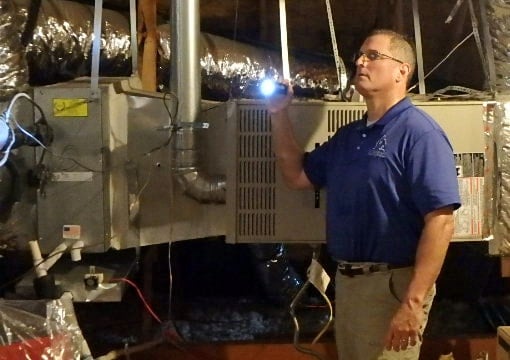 I'm Keith Boggs, the founder of Stonebriar, and I genuinely want you to get a home without the hassle and fuss of getting stuck in a money pit. My home inspection approach is all about you, ensuring that you completely understand the exact condition of your new purchase. After I review your home's structure and related systems, I will provide you with an ultra-detailed 600-point report, covering everything from floor to ceiling and everything in between, with 80 images. The report is easy-to-understand and is centered on you making the right decisions about what you need to do next in your home buying process. I deeply care about my customers; in fact, I've served some more than once. My goal: your confidence in your Richardson home purchase process, so that you know exactly what you're getting.
Selling Your Home in Richardson?
You want to get the best value for your investment when you are selling your home. While many home sellers do not have a pre-listing inspection, there are several reasons to. Pre-listing home inspections provide unbiased views of your home's condition. This gives you the information that you need to make repairs or identify issues that may be brought up by your buyer's inspector. It also helps you avoid surprises that could slow down the sale of your house.
A professional inspection report can be provided to potential home buyers. This will help them feel more confident in the quality of your home. It can also help to ease sometimes difficult negotiations.
Pre-listing home inspections for buyers are just as thorough as ours. More than 600 components of your home will be examined for structural soundness, correct function, and compliance with code. Your inspection report will usually be completed the same day. We will also explain our findings and make recommendations.
You'll get a clear understanding of the condition of your home so you can make informed decisions about repairs and pricing. We want to help you find any potential problems that could hinder the sale of your home.
Richardson, Texas: a Truly Connected Dallas Suburb
At only 28 square miles, Richardson, Texas is a deeply connected suburb of Dallas, serving as a home for more than 5,000 businesses, many in the telecommunications and insurance industries. An economic powerhouse, it was rated to AAA by Standard & Poor's, a plaudit that only 88 cities in the nation can claim. It's a diverse suburb, with nearly 70% of households are composed of families, and almost 20% of its residents are foreign-born.
Richardson is also an academic hub, as the University of Texas at Dallas is actually located within Richardson's geographic borders. Many Blue Ribbon Schools are located within the Richardson Independent School District. Additionally, there are a number of private schools.
Richardson is also committed to the healthy lifestyle of its residents, and won a Bronze Bicycle Friendly Community award for its emphasis on creating bike-friendly facilities as well as 15 miles of bike lanes in the city.
Richardson Resources
For everything Richardson related, you can check out the official government website.