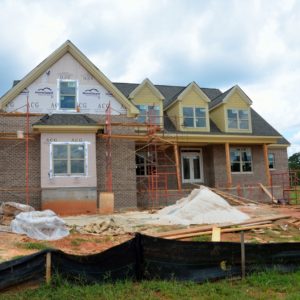 Our housing market is booming as companies like Toyota, Liberty Mutual, State Farm, and Facebook are setting up shop, bringing thousands of jobs and transplanting thousands of people to fill them. In fact, the latest census data shows that the Dallas-Fort Worth-Arlington metropolitan statistical area issued 55,800 housing permits last year alone! More than any other metro area in the nation!
New homes are in high demand, and builders are under pressure to deliver them fast — which means that city inspectors, contractors, subcontractors, and construction pros themselves are also under pressure to meet deadlines and keep costs low. And while most don't intentionally cut corners to save time or money, no one can keep an eye on every step of the process.
That's why reliable, thorough home inspections on newly-constructed houses have become more important than ever.
Unfortunately, when corners are cut — deliberately or not — the results are often hidden under layers of brickwork, drywall, and paint. You, as the buyer of this new home, need more than blind trust to make sure the work has been done properly before you take ownership.
In addition to just plain poor workmanship, here are a few of the problems I've come across during my inspections of new construction:
Ductwork placed in unconditioned spaces like attics aren't properly sealed or adequately insulated, leading to energy loss and higher utility bills.
Levels of insulation in the attic or how it was installed don't meet the Department of Energy's guidelines, again leading to energy loss and higher bills.
There is insufficient insulation in the walls, ceilings, or 2nd-floor flooring — again, more energy loss and higher bills.
The air conditioning is unbalanced, so rooms are too hot or too cold, impacting your family's comfort and increasing utility bills.
Windows are missing components or safety devices — making them unsafe — or they have their tension set too tightly — making them hard to open.
Doors are misaligned, have loose hinges, or are missing components or safety devices, making them unsafe and increasing energy loss.
The landscape isn't properly graded, which can cause flooding and damage to your belongings.
There is inadequate site drainage around the foundation, which can lead to a differential settlement and damage to the home's structure.
Gutters, downspouts, and drainage systems aren't sufficiently sized or installed correctly, which can cause flooding and damage.
Gutters are pitched improperly or have incorrect downspout terminations, which can also lead to a differential settlement.
Roofing felt or flashing is missing or improperly installed, which can lead to water leaks and damage.
Shingles are improperly installed, which can lead to windblown shingles, leaks, and other damage.
Attic spaces are unsafe, increasing the risk of injury to your family and the home service professionals you hire.
New appliances are defective, breakers or outlets are over-heated, or AFCIs/GFCIs are defective — all of which are fire hazards.
The plumbing system is defective, with leaks or loose fixtures, which can lead to water damage.
Overworked city inspectors have missed code violations, which can put your home and family at risk.
These issues can have serious consequences, and you're the one who has to deal with them. But all of these issues can be identified through a high-quality professional home inspection. A warranty is no substitute: Many issues will not show up for years — and definitely past your builder's one-year warranty expires.
Choose an unbiased, third-party licensed Dallas home inspector to take a thorough look at your new space before moving in. Why wouldn't you, given the magnitude of your investment? A new home inspection can save you money by identifying defects you can't see. It will help you hold your builder accountable for your new home's quality. It can also identify potential future defects and provide you with general recommendations for preventive maintenance, helping you maintain your home's value.
Don't close on your dream home without a quality home inspection!
The cost is small for the peace of mind it will provide.
About Our Licensed Dallas Home Inspections
At Stonebriar Property Inspections, Dallas home inspector Keith Boggs proudly provides quality home inspections throughout North Texas seven days a week, including evenings and weekends. Contact him at (214) 923-7304 or [email protected].
Licensed and insured – Texas Real Estate Commission license #9867; TDA licensed termite technician # 0572333, Certified Termite & Pest Control – TPCL# 3825A
Rated an A+ with the Dallas Better Business Bureau
5 out of 5 stars on 99% of customer reviews
The most comprehensive home inspections available
Friendly, down-to-earth service from someone you can trust